Keeping Your Pets Safe During the Holidays
It's the holiday season! With it comes plenty of cheer and celebrating. Be sure to keep your celebrations happy and safe for your whole family with these holiday safety tips for pets.
5 Tips to Keep Your Pet Safe During the Holidays
1. Protect Them From Dangerous Foods
Holiday meals and treats are big parts of the seasonal celebrations, but many contain ingredients that are toxic for cats and dogs. Keep your pets away from chocolate, coffee, alcohol, grapes, raisins, onions, shallots, garlic, chives, xylitol, nuts, and more. To be safe, avoid feeding your pet any foods intended for human consumption. If you have detailed questions about your pets eating habits this Holiday season, call to speak to one of our doctors about
Nutritional Counseling
.
2. Block Access to Electrical Wires
Nothing creates a festive ambiance quite like thousands of twinkling lights. Unfortunately, the electrical wires that come with these lights can pose a safety hazard to curious, playful pets. Make sure yours are plugged into a safe location and displayed well out of your pet's reach.
3. Choose Pet-Friendly Decorations
In addition to the dangers of lights, other types of holiday decorations can be dangerous for pets. Many pose choking hazards, and others are toxic. Be mindful of your pet's safety when decorating your home and yard.
4. Give Them a Sanctuary During Celebrations
Your pet might be a social butterfly who loves guests, but it's still better to keep them in a safe, quiet place when you're entertaining. This will ensure they don't feel afraid of the people coming and going from your house. Additionally, they won't be able to get into any drinks or treats left lying around the house. Plus, they'll be less likely to sneak out the door whenever the bell rings.
With frequent travel, lots of people coming and going from our homes, and the fireworks of New Year's Eve celebrations, the holidays can be a time when your pet is at an increased risk of getting lost. Although no one plans for their pet to go missing, we strongly encourage everyone to microchip their pets.
Pet microchips
are highly effective, as they greatly increase the chances of reuniting with a lost dog or cat.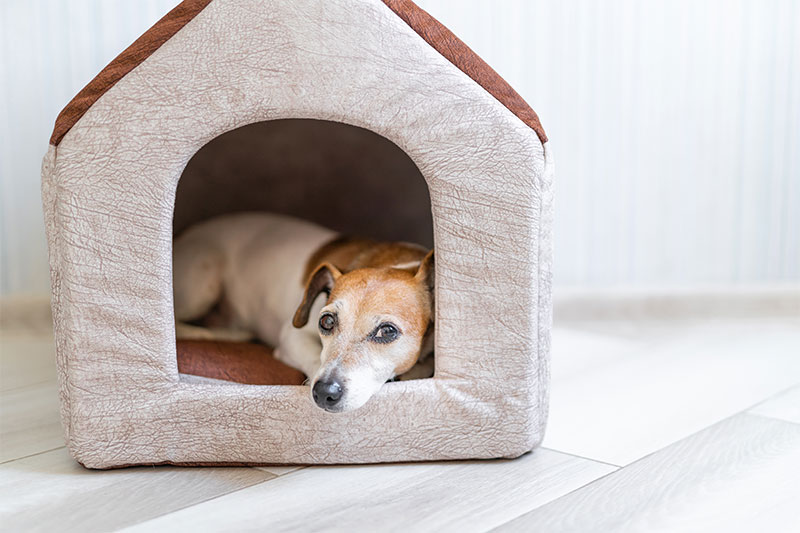 Holiday Pet Boarding With Our Pensacola Veterinarians
If you plan to travel this holiday season and won't be able to bring your pets with you, then there's no safer place for them to stay than in the care of our veterinarians and pet boarding professionals at
Olive Branch Pet Hospital
. To learn more about our pet boarding services or to book a stay for your pet, we welcome you to contact our office today.